How to Increase Website Traffic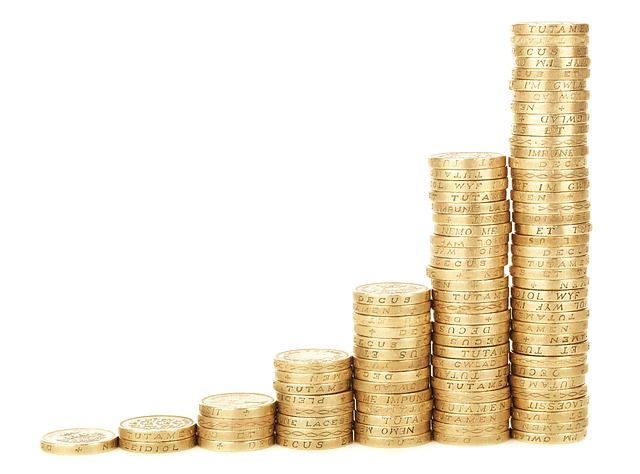 11 Easy Ways to Increase Website Traffic
Website traffic tells you how many users visit your website. Here are the 11 proven ways to increase website traffic. Analytics tools like Google Analytics, Adobe Analytics, etc will often tell you the number of page views, unique page views, and many more.

You will need to understand On-Page SEO and link building to generate more visitors. But, when you're just getting started, the most important thing to remember is that CONTENT IS KING. You will receive more visitors if you have content on your website. There will be fewer visitors to your website if it lacks content. If you have great content, there is a higher probability of showing up when people type in phrases around anything related to your website.
Step 1 – Get Active in Social Media
Active Social Media profiles will help you to build your brand and increase website traffic. Companies, brands, and organizations use social media channels to connect with their followers, increase awareness, and generate leads and business. Follow the below methods to improve the social media presence.
Include visuals in every post.
Create contests and share more videos.
Be proactive in listening to and responding to your online community.
Make sure you change your profile photos and cover photos.
Give people a reason to follow you.
Encourage tagging and use hashtags.
Explore Paid Social.
Never buy followers and fans.
Step 2 – Advertise
Paid search, social media advertising, and display advertising are some of the excellent ways of attracting visitors.
Paid Search is a form of digital marketing where search engines such as Google and Bing allow advertisers to show ads on their search engine results pages (SERPs).
Social Media Marketing is the use of social media platforms to connect with your audience to build your brand, increase sales, and drive website traffic.
Digital display advertisement is graphic advertising that appears on Internet websites, smartphones, or social media platforms in the form of banners or other ad formats made up of text, images, flash, video, and audio.
Step 3 – Pay attention to On-Page SEO
On-page SEO also known as on-site SEO is the practice of improving individual web pages in search engines to rate higher and gain more organic traffic.

On-page SEO involves optimizing the headlines, HTML tags, and images, in addition to publishing relevant, high-quality content.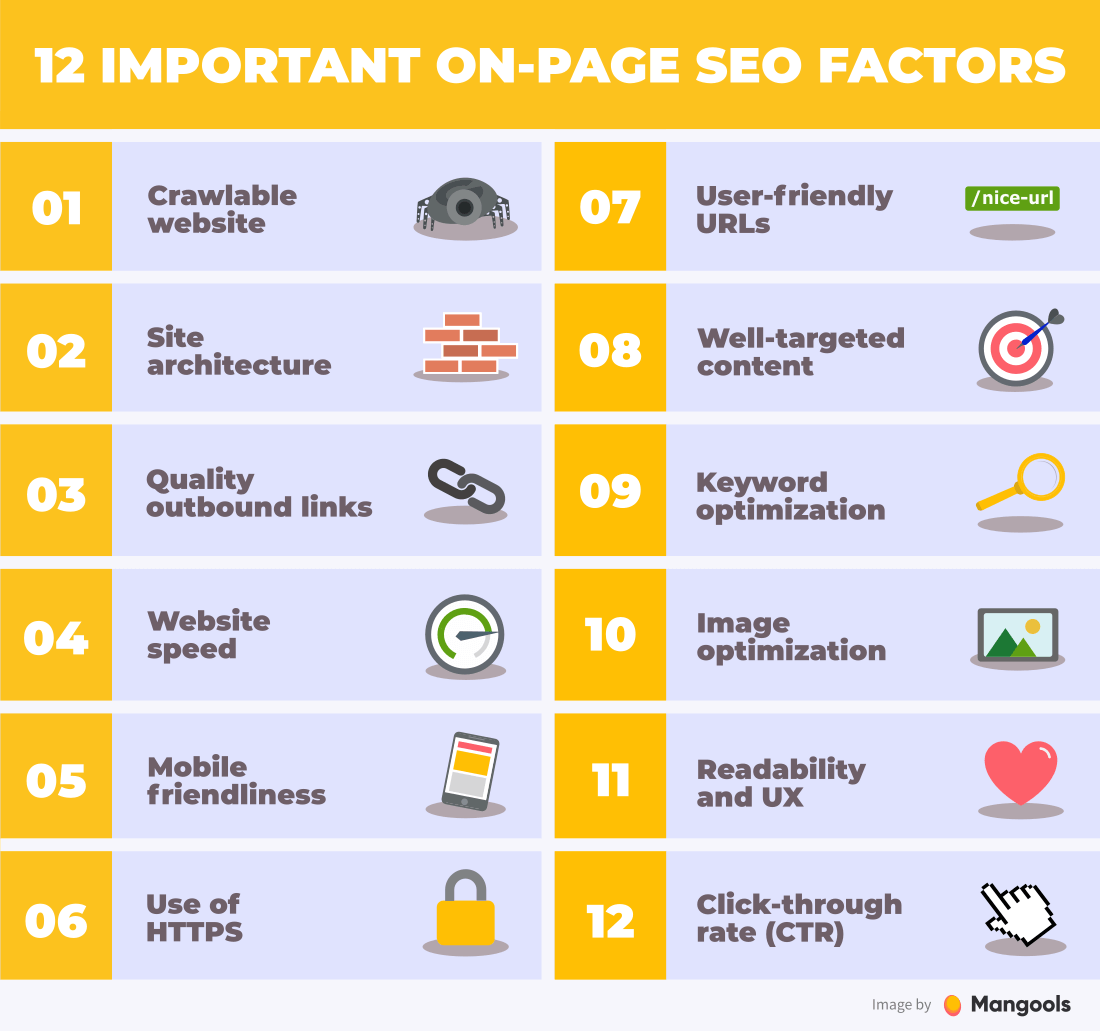 Image Credits – Mangools
Step 4 – Target Long Tail Keywords
Long-tail keywords are more specific keyword phrases that visitors are more likely to use while they are nearing a point of purchase or using voice search. Long-tail keywords are useful for enterprises who want their ads to appear in organic Google queries, however, they may be much more useful for advertisers running paid advertising campaigns.
Step 5 – Post your Content to LinkedIn
LinkedIn, the world's largest professional social network, is also a valuable publishing platform, so it's highly recommended to share your content on regular basis. Paid promotions will help you to increase your brand value within your industry. LinkedIn is a platform for the sharing of knowledge and ideas. This provides you with a place to learn cool stuff from Influencers. They keep publishing blogs, documents, and other industry-related information.
Step 6 – Link Internally
Internal links are the best way to create site infrastructure and distribute connection equity. This is advantageous because it encourages connection equity to flow across the web, increasing the ranking potential of each page. Internal links inform search engines about which pages on your web are relevant and should be highlighted. The greater the number of internal links leading to a specific URL, the more relevant it would look to search engines.
Step 7 – Start Guest Blogging
When you ask someone from outside your business to write a blog that will be featured on your website, this is known as guest blogging. Typically, the writer will work in the same industry as the organization or be an expert on subjects related to the organization. Building partnerships is the aim of guest blogging. You're networking with other bloggers and building new contacts that might be helpful later. Bloggers can be influential, and their chatter contributes to a large portion of internet conversation.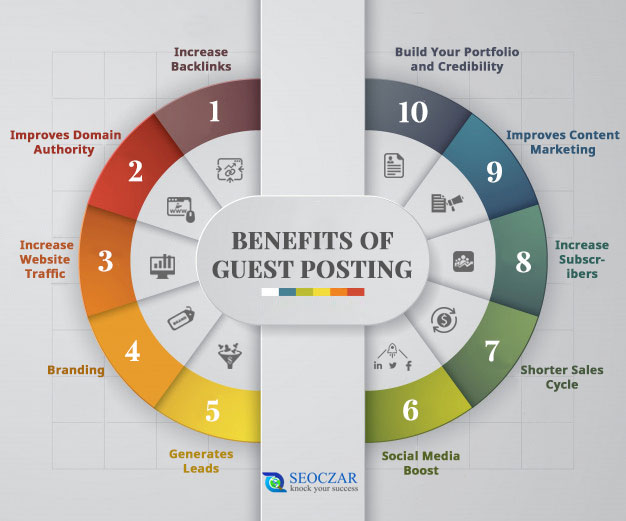 Image Credits – Single Grain
Step 8 – Start Building Backlinks
When one website links to another, a backlink is formed. Backlinks are also known as inbound or incoming links. Backlinks are considered as "votes" for a specific page by Google and other major search engines. Pages with a high number of backlinks usually rate high in organic search engine results.
Step 9 – Submit Your Content to Aggregator Sites
Websites that aggregate content are those that do not create their own original content. Instead, they collect content from other websites all over the Internet and "aggregate" it into a single, easily accessible spot. Few examples of content aggregator websites are Alltop, Popurls, The Web List, WP News Desk, Blog Engage, Travel Blogger Community, Feedly, News360, Techmeme, Panda, and many more.
Step 10 – Start a YouTube Channel
YouTube is an important marketing platform for almost every business in every field. Online video marketing offers a one-of-a-kind platform for businesses. Video marketing will help to create loyalty and define an organization's authority. It also makes it easy to communicate with and engage clients. Follow the YouTube marketing strategy to improve your business.
Create a YouTube channel for business
Learn about your audience
Research your competition
Learn from your favorite channels
Optimize your videos to get views
Upload and schedule your videos
Optimize your channel to attract followers
Try YouTube advertising
Try working with an influencer
Analyze and optimize
Step 11 – Examine your Analytics Data
Google Analytics is a useful resource for every part of your website, from your most popular sites to visitor profiles. Maintain vigilance about your Analytics data and use it to guide your advertising and content strategies. Keep track of the articles and pages is the most common. Check visitor data to see how, where, and when your site traffic is coming from.