Free Digital Marketing Tools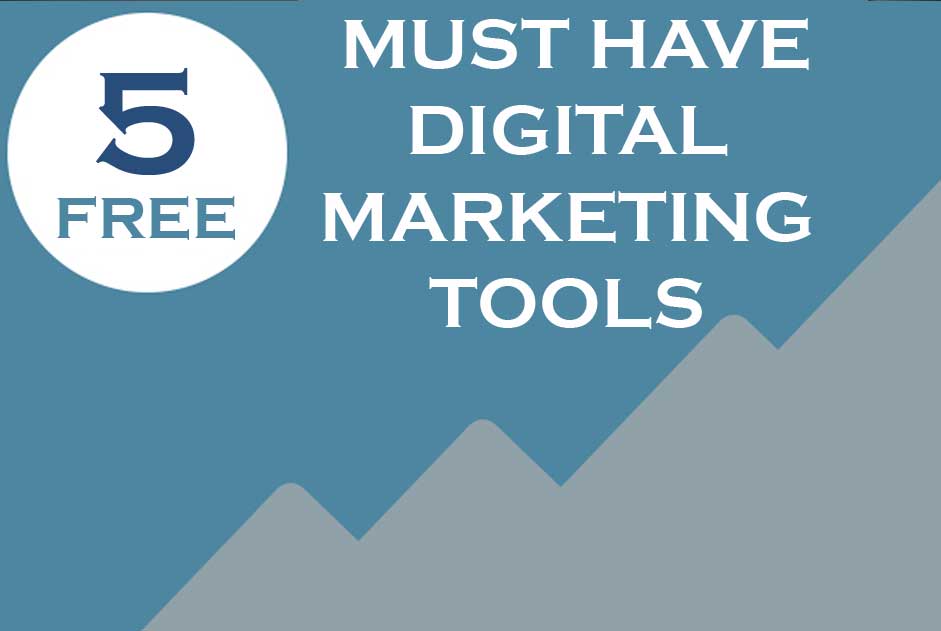 5 Digital Marketing Tools You Need When Starting a Business.
If you're starting a company, you're probably looking for ways to get a leg up on the market. To do that, you'll need a solid marketing plan as well as access to the right digital marketing platforms. In this article, I'll go over 5 digital marketing tool that you'll need when starting a company. You may be familiar with one or two of the marketing tools mentioned here, while others may be unfamiliar to you.
Google Analytics
You can track data in a variety of categories with Google Analytics installed:
Real-Time Report – The Real-Time report in Google Analytics allows you to track activity on your website as it happens in real time. This is useful for learning how people are responding to your marketing ads, app or website infrastructure, or any updates you've made. The files are constantly updated, and each website session is announced seconds after it happens.

Audience Report – The audience report in Google Analytics contains information on your users' characteristics. Audience report help you to answer the below questions.

How much website traffic do you have?
What are the demographics of your users?
What devices do users use to access your website?


Analytics Acquisition Reports – Google Analytics' Acquisition results show you where the customers came from, such as search engines, social networks, or domain referrals. The Acquisitions summary report will show you how well each channel drives conversions, which is essential when developing marketing strategies.

Content Report – Content report in Google Analytics gives you an overview of all the site's blog entries, landing pages, and web pages.

Site Speed Report – Site speed is an important factor in user experience, and you want to ensure that your customers can load the website on their devices in a reasonable timeframe.

Conversion Reports – The Conversion reports in Google Analytics offers metrics to measure your online business, whether it is sales or other useful events such as signups, leads, or subscribers.
Google PageSpeed Insights
Google PageSpeed Insights is a platform that allows you to make decisions that improve your website performance. Google PageSpeed recommendations are focused on existing industry best practices for desktop and mobile web results. The best practices for site performance vary considerably depending on whether the device is used on a desktop or a mobile device. PageSpeed Insights Scores range from 0 to 100. A higher score is greater, and 85 or higher means that the page is doing well.
Ubersuggest
Ubersuggest is a free SEO platform that generates new keyword concepts. Ubersuggest provides insight into the tactics that are effective with competitors in your industry so that you can implement, develop, and achieve an advantage. The tool generates long lists of proposed and associated keywords, as well as the top-performing rivals for each of these keywords, as well as their traffic, social shares, and domain authorities.
Google Keyword Planner
The Google Ads Keyword Planner tool is an excellent resource for developing solid keyword lists and kicking off your PPC campaign. Keyword Planner also gives you another choice for creating Search strategies based on in-depth keyword analysis. The Keyword Planner is a powerful keyword workbench for investigating and selecting keywords for your AdWords account. By using the Keyword Planner Tool, you can:
Look for keyword and ad group ideas
View keyword statistics and performance estimates
Filter keywords
Google Search Console
Google Search Console is a collection of tools and services designed to assist website operators, webmasters, web marketers, and SEO practitioners in monitoring the success of their websites in the Google search index. Search Console offers tools and reports for the following actions:
Fix indexing problems and request re-indexing of new or updated content.
View Google Search traffic results for your site, including how frequently your site appears in Google Search, which search queries lead to your site, how frequently searchers click through for such queries, and more.
Receive notifications when Google detects indexing, spam, or other problems on your web.
Show you which sites link to your website.
Troubleshoot issues for AMP, Mobile Usability, and other Search Features.
Search Console can assist you at all levels, from generalist to expert, beginner to advanced.